Course details
◆ Gachimaya course ◆ Recommended for those who want to eat & drink ♪ Great satisfaction 10 items 3h with all you can drink 4700 yen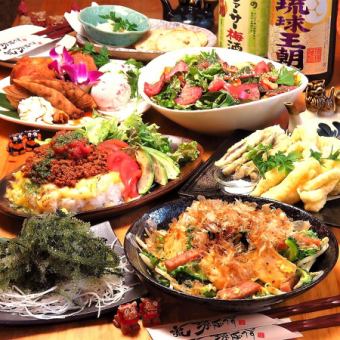 By using a coupon4700 yen(Tax included)
All-you-can-drink available

■ All-you-can-drink for 180 minutes ■ 150 types of enhanced drinks ■ Add 300 yen [All-you-can-drink Orion beer & 30-minute seat extension] ■ Last drink order will be 30 minutes in advance.■ Extension is 1,000 yen per hour.
Reservation deadline

Until 22 o'clock the day prior to the desired shop visit date
Available days for reservation

Monday - Sunday - Public holidays - Holidays
■ 150 kinds of refreshing drinks ■ Additional 300 yen [Orion beer all-you-can-drink & extension of seat time 30 minutes] ■ All-you-can-drink for 3 hours ■ Last order for drinks is 30 minutes before■ Cooking contents may change depending on the purchase status.We accept banquets from more than 4 people!
Course menu
[Haisai course contents]
★ Ship directly from Okinawa!
★ Corioli ♪ Mimigar
★ Today's fresh salad
★ Assorted fresh fish directly from Okinawa fishing port!
★ Champloo
★ Okinawa ingredients PIZZA
★ Curly potato fries
★ Today's recommended deep-fried food
★ Taco rice or Okinawa salt yakisoba
★ Sata Andagi & Blue Seal Ice
The above is an example.
Contents may change depending on the purchase status of the day.
Requests such as "I want to eat this!" Are always available.
Please feel free to contact us ♪
All-you-can-drink menu
·beer
・ Asahi Super Dry / Red Eye / Seek Warser Beer / Orange Beer / Grapefruit Beer / Pime Beer / Pineapple Beer / Cola Beer / Shandigafu
·Highball
・ Black Nikka (Rock / Water) / Highball / Sequencer Highball / Coke Highball / Ginger Highball / Calpis Highball
· Tea break
・ Sampin Tea High / Green Tea High / Oolong Tea High / Tea High
・ Tropical split
・ Mango / Guava / Pineapple / Orange / Grapefruit / Tomato
·sour
・ Mango Sour / Guaba Sour / Pineapple Sour / Seek Warser Sour / Wenzhou Orange Sour / Acerola Sour / Yuzu Honey Sour / Calpis Sour / Lemon Squash Sour
· Awamori
・ Zanpa [Black] / Yaezumi / Zanpa [White] / Shirayuri / Kume Sen / Shimada / Kikuno Ryu / Tadataka
·wine
・ F RAN ZA [Red / White]
·Fruit wine
· White Kaga plum wine
·Sake
・ Pride of Taman / Kuroiso (Sake x Coke) / White Dream (Sake x Soda) / Kinjo (Sake x Ginger Ale)
· Shochu
・ [芋] Kurokirishima / [Wheat] Wara
·Cocktail
・ [Liqueur: Vodka / Gin / Cassis / Mango / Litchi / Peach / Coconut (Malibu)] × [Divided: Sanpincha / Oolong Tea / Tea / Soda / Mango / Pineapple / Orange / Grapefruit / Cola / Lemon Squash / Ginger Ale / Calpis]
·Soft drink
・ Sampin Tea / Oolong Tea / Green Tea / Tea / Tomato Juice / Mango / Orange / Guba / Pineapple / Grapefruit / Calpis / Coca-Cola / Ginger Ale / Lemon Squash / Seek Warser
Coupons that can be used with this course
2019/10/09 update