Course details
◆ All-you-can-drink Ryukyu Bozu Special ◆ 150 draft beers and cocktails all-you-can-drink for 2 hours 2000 yen (tax included)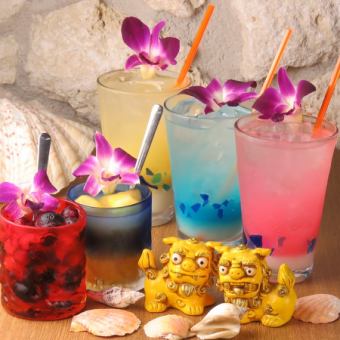 By using a coupon2000 yen(Tax included)
All-you-can-drink available

■ All-you-can-drink for 120 minutes ■ 150 types of enhanced drinks ■ Add 300 yen [All-you-can-drink Orion beer] ■ Last order for drinks is 30 minutes ago.■ Extension is 1,000 yen per hour.
Available days for reservation

Monday - Thursday, Sunday, Public Holiday, Holidays
At the Ryukyu Shaved Tachikawa store, you can finally enjoy an all-you-can-drink single-day + Thursday + public holiday, and the day before the public holiday! All you can drink Orion beer for 300 yen ♪ Please order one item per person.
All-you-can-drink menu
·beer
・ Asahi Super Dry / Red Eye / Seek Warser Beer / Orange Beer / Grapefruit Beer / Pime Beer / Pineapple Beer / Cola Beer / Shandigafu
·Highball
・ Black Nikka (Rock / Water) / Highball / Sequencer Highball / Coke Highball / Ginger Highball / Calpis Highball
· Tea break
・ Sampin Tea High / Green Tea High / Oolong Tea High / Tea High
・ Tropical split
・ Mango / Guava / Pineapple / Orange / Grapefruit / Tomato
·sour
・ Mango Sour / Guaba Sour / Pineapple Sour / Seek Warser Sour / Wenzhou Orange Sour / Acerola Sour / Yuzu Honey Sour / Calpis Sour / Lemon Squash Sour
· Awamori
・ Zanpa [Black] / Yaezumi / Zanpa [White] / Shirayuri / Kume Sen / Shimada / Kikuno Ryu / Tadataka
·wine
・ F RAN ZA [Red / White]
·Fruit wine
· White Kaga plum wine
·Sake
・ Pride of Taman / Kuroiso (Sake x Coke) / White Dream (Sake x Soda) / Kinjo (Sake x Ginger Ale)
· Shochu
・ [芋] Kurokirishima / [Wheat] Wara
·Cocktail
・ [Liqueur: Vodka / Gin / Cassis / Mango / Litchi / Peach / Coconut (Malibu)] × [Divided: Sanpincha / Oolong Tea / Tea / Soda / Mango / Pineapple / Orange / Grapefruit / Cola / Lemon Squash / Ginger Ale / Calpis]
·Soft drink
・ Sampin Tea / Oolong Tea / Green Tea / Tea / Tomato Juice / Mango / Orange / Guba / Pineapple / Grapefruit / Calpis / Coca-Cola / Ginger Ale / Lemon Squash / Seek Warser
Coupons that can be used with this course
2019/10/09 update